Sign Up For E-Statements Today!
Enroll for E-Statements to save paper and save time...so you can focus on saving money. No need to wait for
the mail or sort through paper statements. With E-Statements, you can see all of your statements in one secure
place.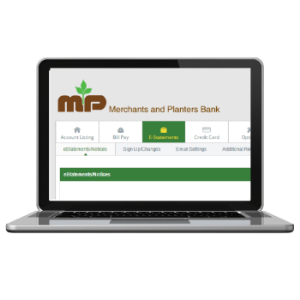 For assistance while enrolling for E-Statements, view the E-Statement User's Guide here.
Questions? Please call your favorite M&P Bank location, or call our Online Banking Department at (870) 523-3601 extension 1165.