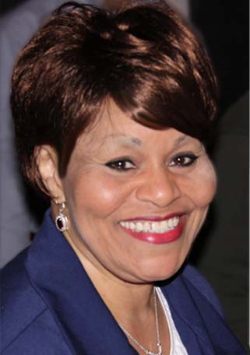 Fernita Robinson
Trust and Administrative Assistant for Merchants and Planters Bank
EMAIL frobinson@mandpbank.com
PHONE (870) 523-3601
Fernita was born in Moulton, Alabama, and graduated from Lawrence County High School in 1980 as one of the charter members of the National Honor Society. After high school Fernita attended Tennessee Valley Business College and earned a certificate in Junior Accounting.
She has a lengthy work history as she started in the bookkeeping department of The Bank of Moulton and was later trained as a teller. She also worked at Wolverine Employees Credit Union in Alabama for 7 years before moving to Nashville, Tennessee, where she managed a branch of Lockheed Federal Credit Union. She later went to work for Ford Motor Credit as a supervisor in the accounting department for almost 10 years.
In 2006, she met a fellow named Irrelon Dale Robinson, Sr. They married in 2007, and Fernita has been an Arkansan ever since. She became a part of the M&P Family in 2007 as a temporary assistant to one of our Life and Health insurance agents at M&P Insurance and Investment Services. Later that same year, she transferred to M&P Bank as the Trust and Administrative Assistant at our Solutions Center and has loved every minute of it.
"I really enjoy my job as Administrative Assistant for the Trust Department. I am honored to play a part in administering the McCartney Scholarship to the students of Jackson County."