A Convenient Way to Pay!
What to do if your M&P Visa Debit Card is LOST or STOLEN

We have several convenient options to block your M&P Visa Debit Card from potential thieves. The quickest way to temporarily block your card is with the 

Mobile App Transaction Control option. If your card is lost or stolen, you can use the "Temporary Card Block" option in the app to temporarily block your card. If you find your card, just swipe the Temporary Card Block button to unblock your card. If you do not find your card, you do not have to worry about someone else using that card. The 

 App is available in the Apple App Store and the Google Play Store. You may also access 

 from your web browser at https://bolts.shazam.net. To learn more about how to create your 

 account, please refer to the Cardholder User Guide.
If you do not have the Shazam Bolts Mobile App, call your nearest M&P location immediately during normal business hours.
If it is after hours or on the weekend, you should call 1-800-383-8000.
Has your card been DENIED?
Call this toll-free number 1-866-508-2693 anytime to find out why.

Information About Your EMV Debit Card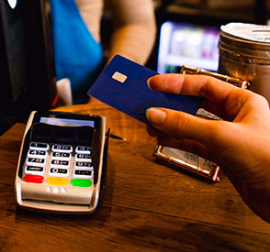 All M&P Visa Debit Cards issued after May 31, 2016, will come equipped with EMV chip technology. There is a chip on the front and a magnetic stripe on the back. The stripe allows you to continue using your card at stores without chip-enabled terminals. The chip stores account information more securely, and the technology itself can provide a reduction in card-present fraud resulting from counterfeit, lost, or stolen cards.
How it works: If prompted to insert your card, look for a slot on the bottom-front of the terminal and insert your card face up, chip first. Leave your card in the terminal until the transaction is complete. The terminal will prompt you to either enter a PIN or sign to validate your identity - don't forget to take your card when prompted at the end of the transaction
M&P Visa Debit Cards are Issued Instantly
"Instant issue" allows us to print your M&P Visa Debit Card in-house* within minutes! We offer numerous designs so you can pick a card that suits your personality. Click here to see all of our available designs.
*You may pick up your personalized M&P Visa Debit Card at one of these M&P locations or receive it in the mail within 2-3 business days:
Newport Solutions Center, Newport North Office on Highway 367 N, Batesville, Searcy, or McCrory.
Things to Know About Your M&P Visa Debit Card
You can use your M&P Visa Debit Card to pay for items: anywhere Visa is accepted, over the phone, on the internet, and at ATMs Worldwide.
You must have an M&P checking account to have an M&P Visa Debit Card.
Once a merchant's authorization is received, the amount is charged against your daily limit until it actually clears your account during the process.
Your purchases will appear on your monthly statements along with your checks.
The standard, daily purchase limit on your M&P Visa Debit Card is $2,020. The standard, daily ATM withdrawal limit is $500.* You can raise these limits temporarily by calling (870) 523-3601. To raise your limits permanently you must come in to any M&P location and fill out a change form.
There are two potential M&P Visa Debit Card fees. The first is a $1 per card per statement cycle fee. This fee is waived if you are receiving E-Statements or Direct Deposit.** There is also a $10 fee to replace LOST cards.
If your checking account offers Overdraft/Bounce Protection***, you must "Opt-In" to be able to access your Overdraft/Bounce Protection with your M&P Visa Debit Card. To learn more about Overdraft Practices, Opt-In, and how it pertains to your M&P Visa Debit Card, click here.
*If checking account balance is sufficient.
**Card is subject to approval.
*** Overdraft Protection is available for Regular, E-Net, Advantage, and Advantage Plus accounts–Subject to Approval. For more information regarding Overdraft Protection and our standard overdraft practices, please click here or visit any of our convenient locations.
ATMs
Use your M&P Visa Debit Card at any one of M&P Bank's ATMs for FREE. (You can find those locations here.) If you use a non-M&P Bank ATM, you are subject to a $1.50 withdrawal fee and/or $0.75 for balance inquiries or transfers. "Privileged Status" ATMs offer reduced or no fees. For a list of "Privileged Status" ATMs, click here or call your local M&P location.
Don't have an M&P Visa Debit Card?
Simply print and fill out our Debit Card Application and return it to your nearest M&P location or mail it to:
Merchants and Planters Bank
Attention: Debit Card Department
PO Box 650
Newport, AR 72112