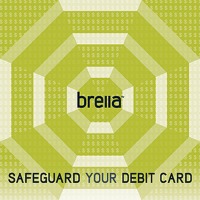 Manage Your Debit Card with brella™
Brella™ is a free mobile app that helps you manage your debit card usage and protect you from fraud. Brella™ should be used to complement your M&P Go Mobile Banking app to add an extra layer of information and protection against fraud for all debit card users.
Has your card been lost or stolen? 
The best feature of the brella™ app is transaction control, the ability to "turn off" your debit card if you can't locate it. If you do find it, just turn it back on! Watch the video below for details. 
With brella™ you can:
Turn your debit card off or on. This is great if you misplace your card!
Set alerts for purchases exceeding thresholds you set or card-not-present transactions
Check your account balance without logging in with the Quick Balance feature.
Find nearby ATMs.
Submit travel notices.
Log in with just your fingerprint.
Use the brella™ app along with the M&P Go Mobile Banking app for increased protection against fraud.
Visit your app store and search for "brella™ Card Manager" to download now, then review this handy Users Guide for more information. 
Losing your debit card could make for a bad day, but with the brella™ app, you can temporarily stop spending, then turn your card back on when you find it. Not so bad after all!